Now Offering The BioMat! CLICK TO PURCHASE A BIOMAT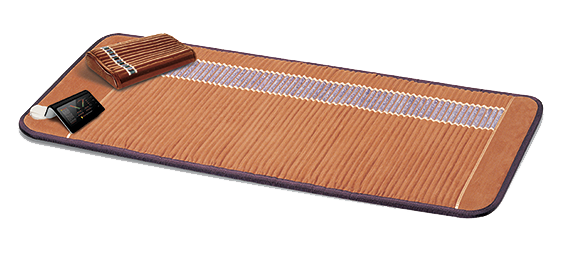 A BIOMAT is a Newly FDA Aproved unique Medical device that is combining Far Infrared Rays (FIR), Negative Ions & Amethyst crystals to produce deep penetrating light energy and heat for a maximum sense of well being and healing experience. The human body has self-healing systems with a strong immune system. The Bio-Mat works as a supportive function in this self-healing process.

While resting on the BIOMAT, you are receiving a molecular level massage, which may increased blood & lymph circulation, may maximize enzyme activity, may provide detoxification and can decrease acidity for more beneficial ph balance in the body. Boosted immune function, rejuvenation of skin, reduction of stress, fatigue, pain & swelling, balancing metabolism & weight loss, elevated energy & vitality, and increased deep delta state of relaxation are some of the many benefits.

BioMat Benefits

Eases Muscle & Joint Pain & Stiffness associated with Arthritis

Temporary Relief of Sprains & Strains

Relaxes Muscles

Improves Blood Circulation

Reduces Inflammation

Strengthens the Cardiovascular System

Improved Restful Sleep

Reduces Stress and Fatigue

Supports the Immune System

Increased Tissue Oxygenation

Boosts Energy and Vitality

Soothes & Relaxes
The Biomats Amethyst Crystals produce the highest frequency of vibrational energy that the body can absorb, thereby promoting increased conduction and absorption of Far Infrared and Negative Ions. - The Biomats Amethyst Crystal will relax the mind/body into delta and theta brain wave states where the body's ability to heal is 60x stronger. The synergistic effect of Far Infrared Rays help promote circulation to all body systems which may increase cellular communication, relaxation & detoxification. Negative Ions may help cleanse the blood and strengthen the immune system.The Biomat is FDA Registered and is covered by some Insurance Companys!
The BIOMAT is the highest quality & comfort in a portable way and is suitable for your home or salon or clinic setting. Mini Biomat is useful for Office use.

What happens during a BioMat Session?

While laying on the Bio-Mat you stay fully dressed in comfortable clothes.

Headphones are placed on your head and you will be taken through Biomat relaxation
meditation.followed by soft some music for you to drift away for a while.

Towards the end of your session a very soft voice will slowly bring you back into your body.

You will awake feeling relaxed, grounded and refreshed.

Our clients describe this session as "the most relaxed they have ever been". "where did I go" and "that was AMAZING" or even ..."that was 30 minutes?"

A really special and healing relaxation methoud that one can us in the Salon, Rent or buy one for yourself for family use.
Pricing
BioMat Single Sessions
Single Session 30 Minutes $30.00
Single Full Session 60 Minutes $60.00
Add DoTerra Essential oils $10.00
Essential oils. DoTerra Oils can be used for a wide range of emotional and physical wellness applications. They can be used as single essential oils or in complex essential oil blends depending on user experience and desired benefit.
Add AromaTent $20.00
Single Session with Doterra Oils infussed in the AromaTent structure for Ultament healing The AromaTent provides an enclosed area for concentrated difussion of essential oils. The AromaTent is easy to use, and can be set up and taken down in seconds, an array of settings on the deffuser, along with the adjustable entry flap and a closable ventilation window on the AromaTent, provides a wide range of vapor output and concentration settings. The Tent is made of a lightweight material and is semi-translucent to allow for subdued light inside the tent for maximum relaxation during use.
Want to learn how to use essential oils? Stop in Ansatz Hair Salon or Visit our essential oils page to learn how to safely use doTERRA essential oils.
Join and Save @mydoterra.com/ansatz